Article - Thailand Smoking Ban
Stricter Smoking Laws introduced in Thailand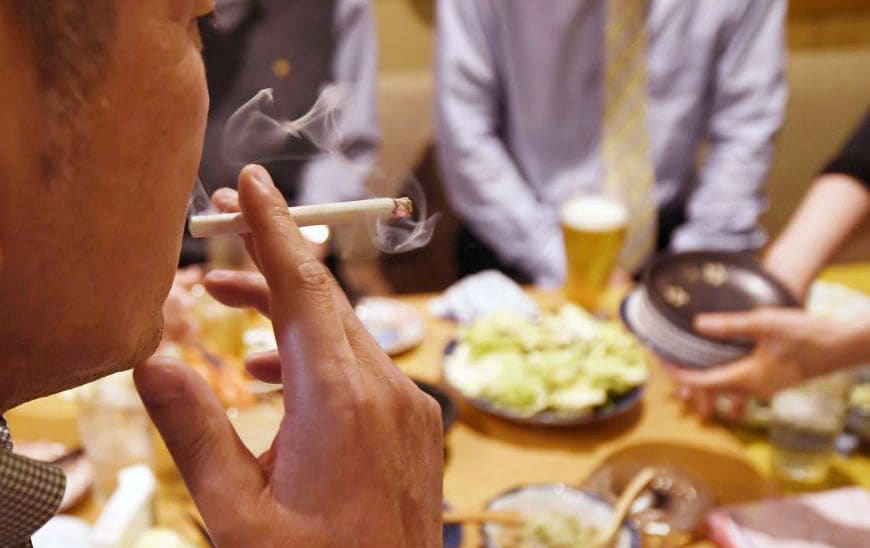 Thailand has recently introduced stricter smoking laws with offenders facing a fine of up to 5,000 Baht. Smokers visiting Thailand should take note that smoking is now not just banned inside some buildings, but also outside if it is too close to a public entrance or exit. This is a significant change that may catch tourists unaware if they light up a cigarette outside a hotel, pub or restaurant. The new regulations from the Ministry of Public Health came into force in February this year.
Thailand aims to cut down on national tobacco consumption by at least 30 per cent by 2025, as some 400,000 Thai people die from non-communicable diseases caused by smoking every year.
What does the new smoking law say?
Smoking is already prohibited inside many venues and on public transport. The key point from the new law is that smoking is banned if it is directly outside various public buildings. There is now a 5-metre 'exclusion zone' outside public entrances and exits where it is illegal to smoke. More than 80 types of buildings and venues are covered under the new smoking law which includes:
airports
amusement parks and water parks
banks/cash machines/ATMs
cinemas and other entertainment venues
condos, apartments & rental buildings
fitness parks and gyms
government offices
grocery stores
hospitals and clinics
hotels
libraries
laundries
massage and spa venues
public parking areas
pubs
religious buildings
restaurants
schools and nurseries
shopping malls
swimming pools
toilets (public toilets)
various transportation areas including bus stops, piers and taxi/mini-van stands
In some cases, designated smoking rooms will be allowed at transportation hubs and other venues. Under the new laws, no smoking signs are to be made more prominent. The wording on cigarette packets and advertising used will also fall under stricter regulations.
Smoking at airports
Airports of Thailand (AOT) have announced they will be closing the smoking rooms at a number of Thai airports. The airport smoking rooms at Bangkok Suvarnabhumi, Bangkok Don Mueang, Chiang Mai, Chiang Rai, Hat Yai, and Phuket will all be closed.
The 5-metre exclusion zone around entrances and exits also applies to public areas at airports. AOT previously announced there would still be designated smoking areas outside airport terminals, but there has been conflicting information about this. Before lighting up, smokers should pay extra attention to look for official signs to see if smoking is actually permitted or not.
No smoking at Thai beaches
The new regulations add to existing laws which prohibit smoking at a number of beaches in Thailand. At the moment, no smoking signs at beaches aren't always clear and smokers need to be extra careful not to break the law. There is also the likelihood in the future that more of Thailand's beaches will be no smoking zones.
Vaping ban
Visitors to the kingdom should also note that Thailand prohibits vaping and e-cigarettes. Although the law isn't always enforced, there have been cases of tourists being arrested for vaping in public.
Smoking in private homes
In addition to the restrictions on smoking in Public places, new restrictions are being imposed on smokers in Thailand to reduce the effects of passive smoking on children and other vulnerable people at home
Lertpanya Buranabanthit, head of the Department of Women's Affairs and Family Development, explained that the law does not seek to ban smoking in people's homes. He said that the laws have simply been brought about to protect children and other vulnerable people from the negative health effects of second hand smoke inside homes where the smoker is inflicting their habit on other residents or family members.
The new law comes into effect in Thailand from August 20.